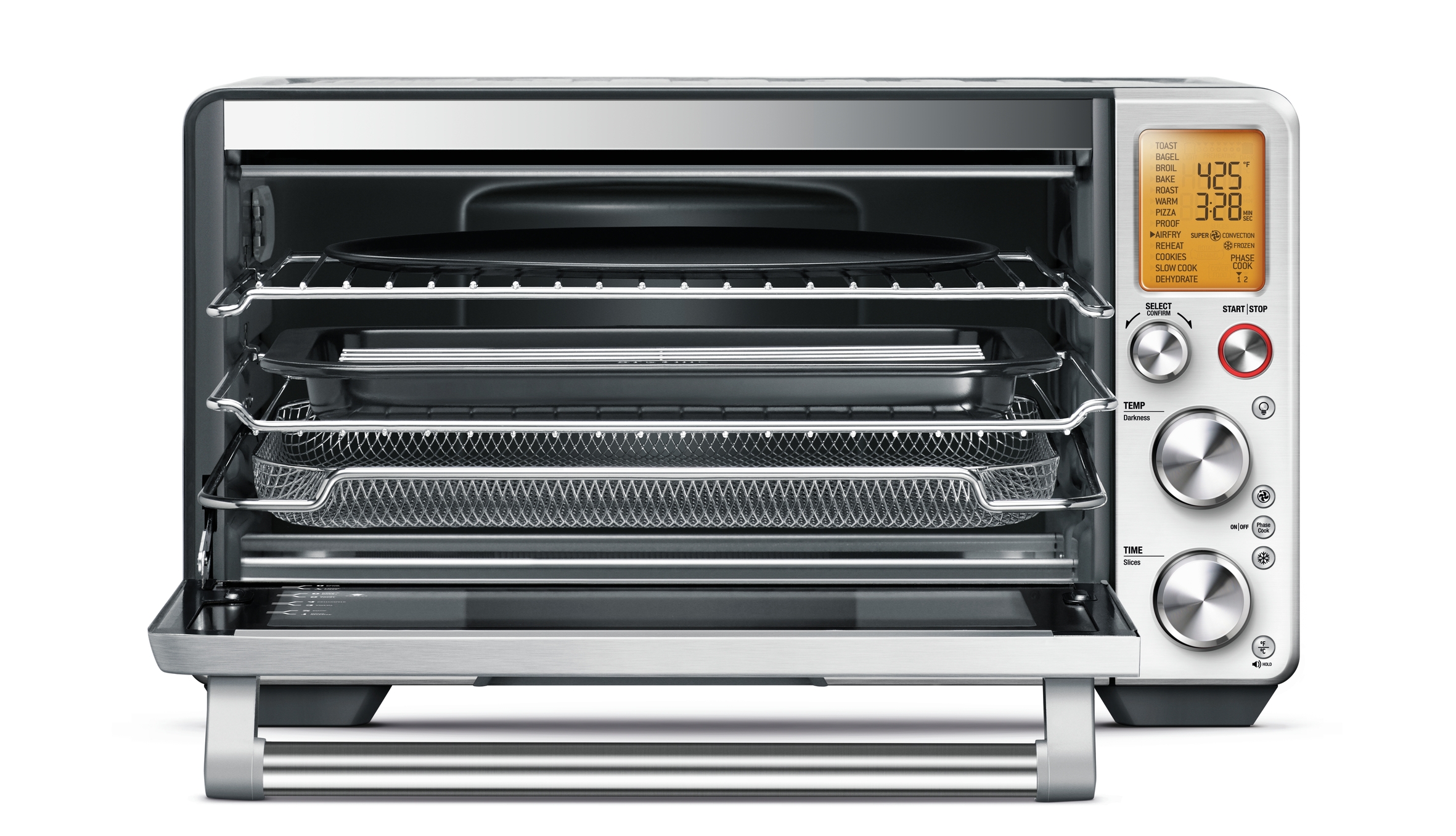 *Disclaimer: Breville Canada sent us a Smart Oven Air, all opinions are our own
Breville Canada Facebook, Twitter, Instagram, YouTube
I have to admit I was skeptical about getting a toaster oven when Janine told me. I wasn't feeling like we were lacking any appliances, and I was picturing the small thing on my dad's counter that we used, on occasion, to make those mini frozen pizzas during our lunch hour from school. I honestly wasn't excited at all. However, our new Breville Smart Oven Air arrived just a few weeks ago, and my opinion on toaster ovens changed rapidly. This is not what I was imagining. It is much larger than we expected as well, so we're back and forth on whether it should be tucked away when we're not using it. If you've got limited space then you should definitely check dimensions before picking one up.
For something as simple as french fries, using the AirFry feature delivers some crisp fries in less time than a conventional oven, and no flipping required! Breville claims there's space for a 14lb turkey, which we don't doubt, but also didn't test. However we did try our favourite Roasted Chicken recipe (read below). This was actually a good test because it's something we make often and have a solid benchmark to compare against. While we still have recipes we're looking forward to trying with our new Smart Oven, there are already things that we know this will be our go to for. Definite choices include: chicken fingers and wings, french fries and roasts.
If you already have a stove/oven, this one will help you out for nights when you have a large family gathering and need extra oven space, or if you have more than one thing going in an oven at various temperatures. Gone are the days where I set the temperature between the two given, and hope for the best.
We're very grateful to have had the opportunity to work with Breville for what is now the second time. What really got us excited was that when we asked if they'd be willing to provide an extra one for a giveaway they were thrilled to participate. I look forward to hearing from a lucky winner and exploring the cool features together!

Jessica Seinfeld's "Seriously Basic Roast Chicken"
We love this roasted chicken recipe, it has been a meal that we've had enjoyed for years now. An impressive one pan dish that's easy to prepare, healthy and a family favourite... need we say more? With our new Breville Smart Oven Air, we were curious to see if the roasted chicken would turn out as well as in our conventional oven. To our somewhat surprise, it actually turned out better. The 'Phase Cook' function allowed for setting an initial increased cooking temperature to crisp the outside of the chicken and then brought the temperature down for the remainder. The 'Rotate Reminder' also proved useful for ensuring even cooking.
Find the full recipe here.
Enter to Win a Breville Smart Oven Air
*Giveaway open to residents of Canada, excluding Quebec.

Find more awesome Giveaways here!
-Rob